Our job will be to make sure these new elected officials and bond issues are fiscally responsible. We look forward to the sincere collaboration with elected officials, and hope all the citizens who were involved in this 3 month election discussion stay involved in crucial decisions throughout the year! Onward!
2016- The latest info on the Wasatch School District's projects HERE on their website. Also, Financial Bond Info HERE.
 ___________________________
Election results here: http://www.wasatch.utah.gov/2015-Election-Results.
The Wasatch School District (WSD) is asking the public for a $62 million dollar BOND this year. It includes one elementary school, one middle school, and "community" lap pool with play area. Construction will begin Spring 2016, and an anticipated completion date is August 2017.  ACTUAL BOND PROPOSITION HERE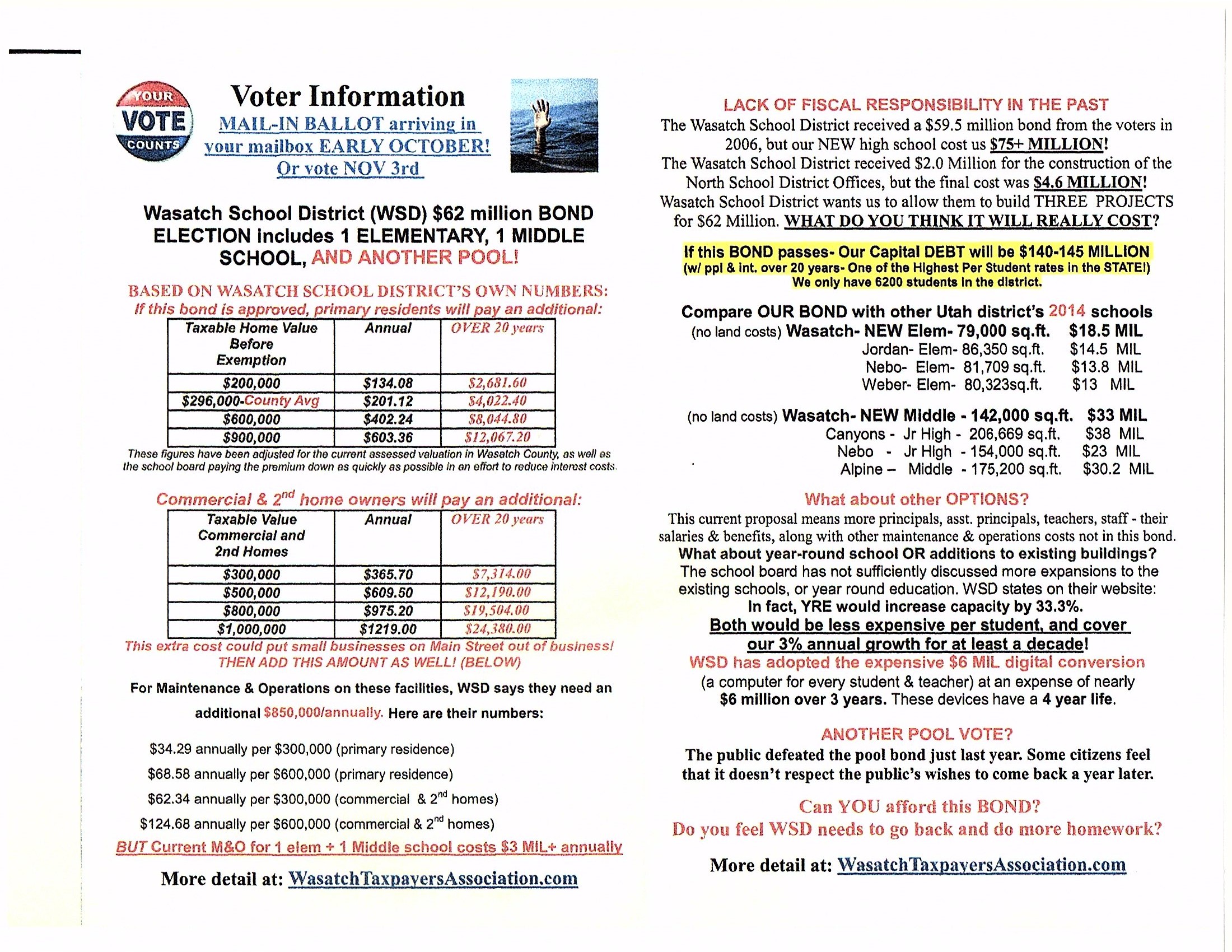 Be ready to vote! ARE YOU AWARE YOUR MAIL-IN BALLOT WILL BE ARRIVING IN YOUR MAIL EARLY OCTOBER?  You can either mail it back, or go to the County Clerk's office on election day, Nov 3rd, with your mailed ballot and vote there.
If this BOND passes- Our Capital DEBT will be $140-145 MILLION (w/principal & interest over 20 years- One of the Highest per student rate in the STATE!) We currently only have 6200 students in the district.   UTA 2015 SCHOOL SPENDING REPORT (before $62 MIL bond)
*** CLICK HERE TO COMPARE OTHER UTAH SCHOOL DISTRICTS' NEW SCHOOLS-  USOE- Capital-Outlay-Report-FY2014
Here's ours! Compare OUR BOND with other Utah districts' 2014 schools
Wasatch- NEW Elem- 79,000 sq.ft.    $18.5 MIL (no land costs)
Jordan- Elem- 86,350 sq.ft.      $14.5  MIL
Nebo-  Elem-  81,709 sq.ft.      $13.8   MIL
Weber- Elem-  80,323sq.ft.       $13    MIL
Wasatch- NEW Jr High- 142,000 sq.ft.    $33 MIL (no land costs)
Canyons –  Jr High –  206,669 sq.ft.      $38  MIL
Nebo-        Middle   –   154,000 sq.ft.      $23  MIL
Alpine –     Jr High    – 175,000 sq.ft.      $30.2  MIL
Washington- Middle-  164,896 sq.ft.       $22   MIL
Were you curious about our CURRENT enrollment vs. capacity of our schools? We couldn't find the info at the state or local level. See how other districts supply info: Click Here to see how Duchesne School District puts out info for the citizens  Or Davis School District BOND info
| | | | | | | |
| --- | --- | --- | --- | --- | --- | --- |
| | | | cost | sqft |   | per sqft |
| Wasatch | 2006 | OldMill | $8,881,294 | 75,000 | 800 | $118.42 |
| | 2006 | JRS | $2,898,448 | 18,000 | +250 student | $161.02 |
| | 2009 | WHS | $69,532,638 | 320,000 | 2000 | $217.29 |
| Washington | 2006 | Arrowhead | $6,146,174 | 54,000 | 650 | $113.82 |
| | 2006 | Little Valley | $8,414,946 | 54,000 | 650 | $155.83 |
| | 2007 | Hurr Intermediate | $15,284,680 | 135,229 | 1000 | $113.03 |
| | 2007 | Horizon Elem | $7,614,596 | 53,736 | 650 | $141.70 |
| Duchesne | 2008 | Roosevelt | $17,275,545 | 213,000 | 800 | $81.11 |
| Uintah | 2011 | Ashley Elem | $14,838,903 | 202,688 | 800 | $73.21 |
| | 2011 | Eagle view Elem | $14,735,094 | 88,931 | 800 | $165.69 |
There are other creative options that have not been properly considered, and debated, by the school board. This current proposal means more principals, asst. principals, teachers, staff and their salaries and benefits, along with other maintenance and operations costs not included in this bond amount. The school board has not sufficiently discussed more expansions to the existing schools which would be less expensive. Also, year round school options (see more info below****) have not been thoroughly investigated and discussed, yet the school board says they are aware of its issues. They did not discuss these issues in depth in a public meeting.
Including a pool in this proposal is another poor choice by the school district. The public defeated the pool bond just last year! Some citizens have responded saying that that does not respect the public's wishes to come back again. Some citizens had suggested to the school board that they remove the pool from this bond election. They did not respond. 
The Wasatch School District has purchased 50 ACRES in the last 3 years for schools- with CASH. WSD in July, purchased two MORE 5 acre lots (total amount that has been spent by WSD on Daniel property to build elementary school is OVER $1 million) in an established subdivision of 5 acre HORSE PROPERTIES in Daniel.  The immediate neighbors of this new location are not happy, and the Daniel Town Council has concerns about the water and sewer/septic issues and Heber City encroaching their utilities into Daniel. This proposal feels like the school district is frantically trying to push it this year, instead of taking another year to have a well developed plan in Daniel.  Here are 4 videos of a recent Daniel Town meeting where the school board and superintendent attended to explain their plans of the new elementary school.    (You may remember that the school board bought a 10 acre parcel on 3000 south for $450K  [not including demolition costs of old home] in 2013.  That parcel does not have sewer, curb and gutter or sidewalks for the kids to be safe walking to and from, since Daniel doesn't require those improvements in their town code. Why didn't the school district do PROPER due diligence on this parcel? So what is the school board going to do with THAT PARCEL? GOOD QUESTIONS….)
THE LACK OF FISCAL RESPONSIBILITY BY WSD IN THE PAST.                                                                        The Wasatch School District received $2.0 Million from the taxpayers for the construction of the North School District Offices, but the final cost was $4.6 MILLION! And $1.8 MILLION disappeared with no accountability.The Wasatch School District received a $59.5 million bond from the voters in 2006, but our NEW high school cost us $75+ MILLION! (That $15 Million over-run could have paid for their NEW elementary school today). That 2006 high school BOND was ONE project. Now the school district wants us to allow them to build THREE  PROJECTS at once? It is hard to keep track of the spending on ONE project (we still are not sure of the total cost of the high school), it will be impossible to keep track of THREE! The school district should ask for ONE school at a time to regain public trust and show the taxpayers they can come in budget.                                                                                                                            GET MORE INFO ON THESE PROJECTS HERE- NEW Wasatch High School   North School-District Office
Wasatch School District (WSD) makes a case for emergency growth in Wasatch County as though it is a surprise. We question the choices made by WSD in the last 8 years. During a time of historically low building and bonding rates, the district has instead paid cash for the $10-15 million overrun of their last project (the $59.5 mil NEW high school construction) and it's already close to capacity signaling a poor design. They purchased land for new schools at above market values, built a  football/track stadium for $4 mil, purchased more than a dozen portable classrooms at approximately $125,000 each, upgraded all our schools with air conditioning,  and completed a digital conversion (at $6 mil, but an ongoing expense). 
They also demolished the old high school just to break even on their costs, yet there were portions of that old high school that were only 15 years old and could have been utilized.  An education professional spoke in a recent school board meeting sharing the benefits of year round school; lower cost per pupil, enhanced retention, flexible schedules for families, more cost effective use of current buildings that now have air conditioning.
What are our priorities- classrooms or pools? We voted down a pool bond just last year, and another one pops up this year.  When this bond proposal fails, the school district can then institute the promised year-round efficient school utilization and demonstrate an effort to regain the trust of the public by practicing better fiscal responsibility.                     ______________________
Approval of this $62,000,000 proposed bond:
Will increase your school tax bond (debt) burden by nearly 60%, and
Will increase your total school taxes by about 15% (for 2/3 or your total property Tax)
AND increase your TOTAL property tax bill by about 10%                                                                       _______________________
(According to the School District information, Year-round Education will only increase taxes by $700K.)  
****ALL THESE TAX & MAINTENANCE NUMBERS BELOW are the Wasatch School District's (from their webpage) :  Our additional numbers with more realistic home values, and over longer term.
Also, this bond is ONLY for construction costs, the maintenance & operations for these new facilities will be in a tax increase NEXT YEAR!                From the Wasatch School District website:                          To staff and maintain these new proposed facilities, the Board of Education would hold a Truth in Taxation Hearing in August, 2016 to raise up to an additional $850,000 annually from property taxes.
$11.43 annually per $100,000 (primary residence)

$20.78 annually per $100,000 (commercial real estate and second homes)

$34.29 annually per $300,000 (primary residence)
$68.58 annually per $600,000 (primary residence)
$62.34 annually per $300,000 (commercial & 2nd homes)  
$124.68 annually per $600,000 (commercial & 2nd homes)  
BUT Current M&O for 1 elem + 1 Middle school costs $3 MIL+ annually                                                                  Wasatch School District -UTAH Transparency Website
If the bond is approved, how will it affect residents in Wasatch County?
PLUG in your our property info here to get TAX INFO (LOGIN AS GUEST)
 (These numbers are a current snapshot and are estimates only, and may change with population and future interest rates)
Taxable Home Value Before Exemption
Annual
        

OVER 20 years

$100,000

(Do YOU know any property in Wasatch CO for $100K?)

$  67.04
   
$200,000
$134.08
     

$2,681.60

$300,000
$201.12
   $4,022.40
Average Primary Residence in Wasatch County – $296,000
$198.45
     $3,969.00
| | | |
| --- | --- | --- |
| $600,000 | $402.24 |     $8,044.80 |
| $900,000 | $603.36 |    $12,067.20 |
(These figures have been adjusted for the current assessed valuation in Wasatch County,as well as the school board's interest in paying the premium down as quickly as possible in an effort to reduce interest costs.)                                                                                                                                                                             Are there additional costs for maintenance and operation of the new proposed schools?If the bond is approved, how will it affect businesses and second home owners in Wasatch County?
Taxable Value   Business/Second Homes 
Annual
   OVER 20 years
$100,000 

(Do YOU know any property in Wasatch CO for $100K?)

  $121.90
        
$500,000
  $609.50
    $12,190
$800,000
  $975.20
     $19,504  
$1,000,000
$1219.00
    $24,380
To staff and maintain these new proposed facilities, the Board of Education would hold a Truth in Taxation Hearing in August, 2016 to raise up to an additional $850,000 annually from property taxes.
$11.43 annually per $100,000 (primary residence)
$20.78 annually per $100,000 (commercial real estate and second homes)
What happens if the bond election fails?
Continue to add double classroom portables and/or

(T

he alternative of 'Portable classrooms' are listed at $112 K or $56,000/classroom. 

The proposed elementary school at $18,500,000 has 35 or $528,571/classroom. 

Middle School appears to have, maybe 50 or 60 at $600K each.) 

Add on to the existing school buildings and/or

(NOT A BAD IDEA!)

Close school boundaries for school choice and/or
Students housed in the middle school and high school will be on a traditional schedule with additional portable classrooms, or additions to the school facilities being added as needed and/or
Evaluate year-round K-6 four-track school schedule to start in July 2016
Each track has approximately 45 days of school in session and 15 days off on a school schedule that is rotated with track changes throughout the year.
3 of the 4 tracks are in session at a time, allowing one fourth of the students to be "off-track", and not in school.
Year-round school would allow a facility to handle 25% more students in a given school year.
All tracks have a brief break (3 weeks in July) and other traditional holidays.
Families who have children in elementary and secondary schools in the school district may have their children on different school schedules.
There are additional maintenance and operation costs associated with 4-track year-round schools. It is anticipated that an additional $765,000 is needed for those changes to cover salary, benefit, and utility increases.
A Truth in Taxation Hearing would be held August, 2016 to discuss a proposed tax increase of $10.29 annually per $100,000 of assessed value in a primary residence. Commercial real estate and second home owners would pay $18.71 annually per $100,000 of assessed value.
***** The Wasatch School Board says that year round school is a possibility if this school bond doesn't pass this year. Yet, they haven't seriously discussed the pros and cons in a public meeting.  Not until the July 2015 board meeting was the fiscally responsible option of Year Round Education even discussed. By utilizing our buildings more efficiently, we can wait years to build.  A presentation was given by a Provo professional educator, Rosemarie Smith, with years of experience in YRE.  She pointed out the pros and cons, clearly stated the #1 reason for YRE was "enhanced learning" and the virtual elimination of time to get students dialed back in after summer vacation. This enhances retention and learning for all grade levels.  It has been accepted by both parents and teachers once they learned the scheduling flexibility.  WSD states on their website that "Year-round school would allow a facility to handle 25% more students in a given school year." In fact, Year Round Education will increase capacity by 33.3%.   Of course that's using old math. (750 student increase of 250 is a 1/3 increase, NOT 1/4)  We wonder if they ask this question in the SAGE tests?
Current WSD school enrollment is about 6,000, so using the same facilities in their proposed year round schedule for all classes, 8,000 students could be accommodated.   The current projection for 2023 is 7,920.   If the property tax base increases the same amount that would be ~30% more homes to participate and lower the per home tax cost by ~23% – which would effectively offset inflation.              —  Read more HERE on Family Education:  "Most school districts choose year-round schooling as a cost-cutting measure. For example, with one group of students always on vacation, a school that was built for 750 students can serve as many as 1,000! This lets school districts with little or no money for building new schools handle a growing student population and save millions of dollars in construction costs. Furthermore, although the cost of operating a year-round program is more expensive, there is a reduction in per-pupil costs."                                                                                                                                                                    — Here's a  Salt Lake Trib article on another Utah school district grappling with going BACK to old schedule of 3 months off in summer.  And here's  another webpage discussing  Year Round School benefits                                                                                                        __________________________
Dan Jones Poll for BOND viability was ordered by WSD – June 25, 2015  We'll see if this poll ($12,000) was worth the money our school district spent. Some citizens thought we could have saved money and just had an open house where citizens could have expressed their opinions directly with the school board.               ——  18% of the respondents (out of 300) were EMPLOYED BY THE SCHOOL DISTRICT.  Town of Daniel was represented by 2% of the survey (but has 4% of the population) but will be most impacted by a new elementary school. The survey also had an admitted "age" bias   "Results were weighted by age to align with population base". Why would they modify for age, but not location or income? In the age category, which they ARE weighting, they give more 'value' to the younger group and LESS to the older. The unincorporated area of Wasatch County is far underrepresented and lower income residents were over-balanced in the survey. 
The questions were developed by Dan Jones based on "parameters" designed by the school district.  They were curious of the public perspective of the school district and how good a job they were doing–hence the questions about the individual schools.  Maybe 50% of the people called probably did not have any personal knowledge of the school district's effectiveness and probably had never been in any of the schools– but they still participated. 79% say good building maintenance, but schools are supposedly not in good condition?
But, the survey did support the result that the board wanted–that more of the respondents would support a bond including the pool (66%) than would support a bond without a pool (56%).        ___________________________
Proposed Elementary School
Capacity: 800
Size: 79,040 sq.ft
Location: Daniel
Total Cost: *$18.5 million
*Costs for all projects include architectural fees, construction, contingency, and furniture, fixtures, and equipment.

Proposed Middle School
Capacity: 1200
Size: 142,000 sq.ft
Location: 30 Acres, North of Old Mill Elementary on 980 South
Total Cost: *$33 million
*Costs for all projects include architectural fees, construction, contingency, and furniture, fixtures, and equipment.
 Upper Level
Proposed "Community" Pool
Capacity:
Size: 34,000 sq ft
Location: Practice field west of Wright/Tree stadium
Total Cost: *$10.5 million


Are there additional costs for maintenance and operation for the proposed educational/community pool?
Additional tax monies are not required for maintenance and operation.
Operation costs and salaries are expected to be paid by the revenues generated by pool recreational fees
Square footage operational costs compared to the existing facility will be reduced due to more modernized and efficient equipment
_____________________________________________
April 14, 2015-

Wasatch School District's presentation for the upcoming NOV 2015 BOND ELECTION, given to the Interlocal Meeting. Very preliminary report, no costs revealed yet. Here's the video:   Wasatch Taxpayers YouTube page  
Wasatch Taxpayers Association appreciates any, and all, donations to further the cause of transparency and                  accountability in Wasatch County. Please take a moment and help this ALL volunteer group.  Donate tab above, or red button on the right.  Or join us today for a yearly membership. Thank You!  
This website is for educational purposes only, unless it is specifically stated that WTPA has a stance on a specific issue.       To the best of our knowledge this is correct information, but we welcome corrections if errors are found.